Solitaire Domino Rules
How To Play Solitaire Dominoes
If you don't have an opponent handy, how about playing solo? There are a number of solitaire domino games. These share many elements with solitaire games played with playing cards, but there are some unique games as well.
Castle Rock Solitaire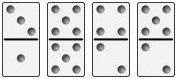 Turn all the tiles face-down and shuffle them. Draw three tiles and place them face-up, in a row. If the first and third tiles share a common number, then remove the middle tile, consolidate the existing tiles, and draw another tile and place it at the right end of the row. Repeat the process. Whenever a single tile is surrounded by two tiles sharing the same number, remove it. If you end up with three tiles in a row containing the same number, you have the option of either removing the center one, or removing all three. If you work your way thru the deck and manage to remove all the tiles from the tableau, you win. In the example to the right, there was no match in the first three tiles (3-1, 5-5, & 4-2), but the fourth tile, a 5-2, matches up with the 5-5, and allows the 4-2 to be removed. This game similar to the card solitaire known as "Accordion".
Concentration Solitaire

This game is nearly identical to the Concentration game played with playing cards. It's a simple memory test, and requires little planning or strategy, but is definitely quite fun and relaxing. Basically, just lay out all the tiles face-down on a table, then start turning them over to find matches. Tiles may be arranged in a grid, or random, as you wish. A "match", in this case, is a pair of tiles that totals 12 points. A 6-6 plus a 0-0, for example, or a 1-3 plus a 3-5. If the two tiles you turn over add up to 12, remove them from the table. Keep going until you've found all the matches. The number of attempts you required is your score.
See Also: Concentration Dominoes
Other Sources of Solitaire Domino Rules