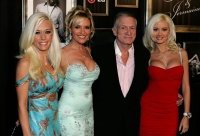 Although some may find it hard to believe, there comes a day when playing dominoes becomes more entertaining than having sex.
Playboy king Hugh Hefner says he knows he's not getting any younger and doesn't have the stamina and drive for the bedroom that he once did in his early years. He admits that he now prefers playing the classic family game rather than getting naughty under the covers.
"I'm bored of the hanky-panky. I'm still active, but it's different – I like to play dominoes with my girlfriends," he tells the London Sun.
When asked about his infamous wild nights at the Playboy mansion, the 80-year-old publisher who turned his men's magazines business into a worldwide entertainment and fashion empire said, "I haven't been to as many parties because I'm doing other things that are taking up my energy".