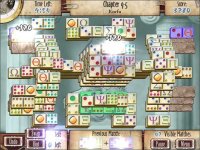 This is not, strictly-speaking, a domino game, which is why I'm not going to list it on this site's Dominoes Software section. But Mah-Jomino is certainly a game that may be of interest to domino fans, particularly those who also enjoy the game of Mah Jong Solitaire.
Mah-Jomino, as its name implies, is a mixture of dominoes and mah jong. Basically, it's mah jong solitaire played with domino-like tiles rather than classic mah jong tiles. The object of the game is remove matching pairs of tiles from the layout, until the entire board is cleared.
What makes this game different than all the other mah jong solitaire games is not just the use of domino tiles, but the fact that a domino tile has two ends. This small change helps to make Mah-Jomino a truly unique game, and a rather interesting and enjoyable one as well. It's worth checking out.
Gamezebo offers a list of Tips & Tricks for the game.
More information about Mah-Jomino
Download Mah-Jomino (16.13MB)
ESPN Deportes, ESPN's Spanish-language network, and the International Domino Federation have reached an exclusive agreement for the network to televise the World Domino Championships through 2011.
"Our commitment in bringing the widely popular game of dominoes to our viewers remains intact," said Lino Garcia, general manager, ESPN Deportes. "This agreement with the International Domino Federation, one of the game's most respected organizations, reinforces our pledge to bring to our viewers the best and most competitive domino tournaments in the world."
"The International Domino Federation is extremely pleased with the agreement it has reached with ESPN Deportes," said Eduard Petrenas, president, International Domino Federation. "Both parties have shown a strong commitment to make dominoes the next mainstream sport on television."
The World Domino Championship is an annual international tournament. The 2005 tournament, which took place in Las Vegas, will be televised in English on ESPN2 beginning June 12; it has already been shown on ESPN Deportes. The 2005 tournament featured a field of more than 40 teams from the United States, Latin America, and the Caribbean competing in a two-day tournament that featured the most skilled professional players.
The 2006 tournament will be held in October in Montego Bay, Jamaica. Santo Domingo, Dominican Republic is home of the 2007 tournament, and Orlando, Florida will host the 2008 event.
See also: ESPN Deportes, Federación Internacional de Domino.
Reference: Business Wire.