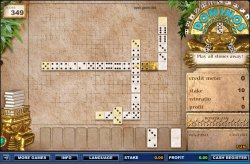 Zigiz Dominos is an interesting new online game. The game is played solitaire-style, and it's actually more a puzzle than a traditional dominoes game. Your goal is to play all of the stones onto the board, earning bonuses based on your speed and skill.
The flash-based gaming environment is quite rich, with great graphics and sound. The game is also easy to use, with a simple drag-and-drop interface.
Zigiz is a European skill gaming company, and offers a large number of great games, including card games, puzzle games, and arcade games, all of which can be played for free as long as you like, or played for a chance to win great cash prizes.
In addition to the Dominos game, Zigiz also offers Klondike Solitaire, Pyramid Solitaire, Spider Solitaire, Mahjong Solitaire, a Yahtzee-style game, a Bejeweled-style game, and many more, all of which are very nicely done.