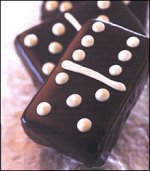 Here's something I never would have thought of, but it's a great idea: Next time you're having friends over for a domino party, how about serving them some domino-themed treats?
The rectangular shape and simple design of dominoes make it relatively easy to make cakes, cookies, and other snacks in the shape of dominoes. Here are some links to resources I found:
Image courtesy of Global Gourmet.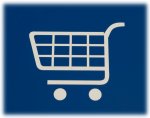 Domino-Games.com is now more than just one of the best collections of dominoes information on the web – it also offers one of the largest and most comprehensive selection of domino products available anywhere.
Domino-Games.com features dominoes (double-6, double=9, double-12, double-15, and double-18), domino accessories (such as domino hubs, domino racks, scorepads, etc.), and retail versions of some of the most popular domino games, including Chickenfoot, Mexican Train, Spinner, PIP, Wildfire, and Tri-Ominoes.
All domino products are offered at competitive prices, assembled from the web's top online retailers. You're unlikely to find a wider variety of the top dominoes and domino games.