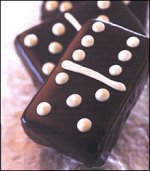 Here's something I never would have thought of, but it's a great idea: Next time you're having friends over for a domino party, how about serving them some domino-themed treats?
The rectangular shape and simple design of dominoes make it relatively easy to make cakes, cookies, and other snacks in the shape of dominoes. Here are some links to resources I found:
Image courtesy of Global Gourmet.