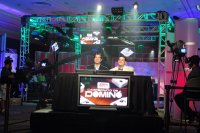 ESPN2 has recently broadcast the 2005 World Domino Tournament from the Las Vegas Hilton. The Tournament originally took place on November 18-20, 2005. The ESPN telecast features the quarterfinals, semifinals and the finals of the competition. Produced in a reality show format, the telecast includes seven one-hour shows. ESPN's veteran announcer Alvaro Martin is joined by actor/comedian Casper Martinez for commentary of the tournament, which was originally broadcast on ESPN Deportes in March, and on ESPN2 in June.
The 2005 World Domino Tournament featured more than 40 teams from the United States, Latin America, and the Caribbean competing in a tournament that featured the most skilled professional players, competing for a cash prize.
The tournament rules do not describe what specific domino game variation is being played, although from the pictures and rules, I infer that they're playing Latin Partnership Dominoes, as described in the books How to Play Latin Partnership Dominoes and How to Play Better Dominoes.
This appears to be a 4-handed variation of Block Dominoes, as described on Jose's Page on Domino Games in Puerto Rico and Latin American Match Dominoes at Puremco.